20 Scary Netflix Movies to Watch on Halloween
Halloween is coming soon, this is the annual carnival feast for horror film fans and naughty guys. And every Halloween, horror film fans will reach for a small, select group of horror films to satisfy their scary-movie craving. In order to help you create the greatest Halloween chill with clammy palms, dry mouth, and cold backside, we have summarized the 20 most popular horror movies on Netflix—the ones that are most suitable for Halloween to watch. If you want to spend the most meaningful and memorable Halloween, this article will definitely help you - trust us, you need it.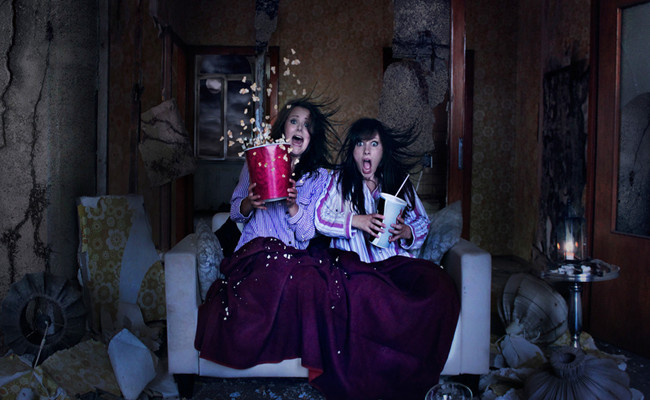 ---
1. Don't Breathe
Introduction: Rocky (Jane Levy), Alex and Money are three Detroit thieves who get their kicks by breaking into the houses of wealthy people. Money gets word about a blind veteran who won a major cash settlement following the death of his only child. Figuring he's an easy target, the trio invades the man's secluded home in an abandoned neighborhood. Finding themselves trapped inside, the young intruders must fight for their lives after making a shocking discovery about their supposedly helpless victim.
2. Orphan
Introduction: Devastated by the loss of their unborn baby, Kate (Vera Farmiga) and John (Peter Sarsgaard) decide to adopt a child. At the orphanage, both feel drawn to a little girl (Isabelle Fuhrman) named Esther, and soon the couple takes their new daughter home. But when a dangerous series of events unfolds, Kate begins to suspect that there is something evil lurking behind the child's angelic exterior.
3. 1922
Introduction: 1922 is a storytelling of a man's confession of his wife's murder. He admits to killing his wife for financial gain, with the assistance of his teenage son. But after he buries the body, he finds that his wife terrorizes him by rats, etc. Since then, his life ruined, and he becomes convinced his wife is haunting him all the time.
4. Gerald's Game
Introduction: A couple tries to add spice to their marriage and have a sex game in a remote lake house. But when her husband goes wrong and dies unexpectedly, the wife, with poor eyesight, has been left handcuffed on the bed frame and she had to fight for surviving alone in the dark.
5. Jaws
Introduction: When a young woman is killed by a shark while skinny-dipping near the New England tourist town of Amity Island, police chief Martin Brody (Roy Scheider) wants to close the beaches, but mayor Larry Vaughn (Murray Hamilton) overrules him, fearing that the loss of tourist revenue will cripple the town. Ichthyologist Matt Hooper (Richard Dreyfuss) and grizzled ship captain Quint (Robert Shaw) offer to help Brody capture the killer beast, and the trio engages in an epic battle of man vs. nature.
6. Veronica
Introduction: The movie's versions of events take place in 1991 Madrid, where a girl named Veronica holds a séance with her friends at high school. Later, while babysitting her siblings at home, Veronica begins experiencing terrifying supernatural events.
7. Saint Maud
Introduction: The debut film from writer-director Rose Glass, Saint Maud is a chilling and boldly original vision of faith, madness, and salvation in a fallen world. Maud, a newly devout hospice nurse, becomes obsessed with saving her dying patient's soul -- but sinister forces, and her own sinful past, threaten to put an end to her holy calling.
8. The Exorcist
Introduction: One of the most profitable horror movies ever made, this tale of an exorcism is based loosely on actual events. When young Regan (Linda Blair) starts acting odd -- levitating, speaking in tongues -- her worried mother (Ellen Burstyn) seeks medical help, only to hit a dead end. A local priest (Jason Miller), however, thinks the girl may be seized by the devil. The priest makes a request to perform an exorcism, and the church sends in an expert (Max von Sydow) to help with the difficult job.
9. Hush
Introduction: In a quiet wooden house far from the hustle and bustle of the city, deaf and mute female writer McGrady Young lived. Her world is silent. When writing was deadlocked, McGrady got up and went to the kitchen to clean up the utensils. At this time, her friend Sara, whom she had just met not long ago, was brutally killed. It's a pity that Sarah could not get McGrady's attention even though Sarah called for help in every possible way. McGrady, who knew nothing, returned to the computer to continue working, while the man sneaked into the room quietly. At this time, McGrady suddenly received a message from her mobile phone, which contained photos taken by the masked man with his mobile phone.
10. His House
Introduction: His House is a 2020 horror thriller film written and directed by Remi Weekes from a story by Felicity Evans and Toby Venables. It stars Wunmi Mosaku, Sope Dirisu and Matt Smith. The film tells the story of a refugee couple from South Sudan, struggling to adjust to their new life in an English town that has an evil lurking beneath the surface.
11. Calibre
Introduction: The feature debut of Edinburgh based writer/director Matt Palmer and produced by Nottingham based and multi award winning, Wellington Films. A shocking deed turned their weekend trip into a nightmare. Now their only hope is to swallow their paranoia and act normal.
12. He Never Died
Introduction: ack (Henry Rollins) is in a rut. His existence has been whittled down to nothing. When he discovers his long lost daughter has been taken by the city's crime syndicate, he must combat his inner demons as he goes on a bloody war path to seek revenge.
13. Creep
Introduction: Looking for work, Aaron comes across a cryptic online ad: "$1,000 for the day. Filming service. Discretion is appreciated." Low on cash and full of naiveté, he decides to go for it. He drives to a cabin in a remote mountain town, where he meets Josef, his cinematic subject for the day. Josef is sincere and the project seems heartfelt, so Aaron begins to film. But as the day goes on, it becomes clear that Josef is not who he says, and his intentions are not at all pure.
14. Creep 2
Introduction: Creep 2 is a 2017 American found footage psychological horror film directed by Patrick Brice and written by Brice and Mark Duplass. It is a sequel to Brice's 2014 film Creep, which was also written by Duplass and Brice. A video artist looking for work drives to a remote house in the forest to meet a man claiming to be a serial killer. But after agreeing to spend the day with him, she soon realizes that she made a deadly mistake.
15. The Block Island Sound
Introduction: The Block Island Sound is a 2020 American science fiction horror thriller film written and directed by Kevin McManus and Matthew McManus and starring Chris Sheffield and Michaela McManus. Something lurks off the coast of Block Island, silently influencing the behavior of fisherman, Tom Lynch. After suffering a series of violent outbursts, he unknowingly puts his family in grave danger.
16. Alive
Introduction: Alive (Korean: #살아있다; RR: #Saraitda) is a 2020 South Korean zombie film directed by Cho Il-hyung. Starring Yoo Ah-in and Park Shin-hye, it is based on the 2019 script Alone by Matt Naylor, who co-adapted his script with Cho. The film revolves around a video game live streamer's struggle for survival as he is forced to stay alone at his apartment in Seoul during a zombie apocalypse.
17. Under the Shadow
Introduction: After Shideh's building is hit by a missile during the Iran-Iraq War, a superstitious neighbor suggests that the missile was cursed and might be carrying malevolent Middle-Eastern spirits. She becomes convinced a supernatural force within the building is attempting to possess her daughter Dorsa, and she has no choice but to confront these forces if she is to save her daughter and herself.
18. The Host
Introduction: Careless American military personnel dump chemicals into South Korea's Han River. Several years later, a creature emerges from the tainted waters and sinks its ravenous jaws into local residents. When the creature abducts their daughter (Go Ah-sung), a vendor (Song Kang-ho) and his family decide that they are the only ones who can save her.
19. I Am the Pretty Thing That Lives in the House
Introduction: Nurse Lily was hired to take care of the bedridden elderly writer Mrs. Bram, but a series of strange things happened during the care, and Lily noticed that there was a ghost in the house. Then she read the ghost novel written by this writer and learned that the story was adapted from the real content: the original bride in the house was killed by her husband and hid in the wall. In the end, Lily was scared to death by the ghost of the bride that came out of the wall, and then the writer died. Later, a new owner moved in, but the family did not know that there was a pair of ghost eyes that had been quietly watching them through the wall.
20. Corpse Bride
Introduction: Victor (Johnny Depp) and Victoria's (Emily Watson) families have arranged their marriage. Though they like each other, Victor is nervous about the ceremony. While he's in a forest practicing his lines for the wedding, a tree branch becomes a hand that drags him to the land of the dead. It belongs to Emily, who was murdered after eloping with her love and wants to marry Victor. Victor must get back aboveground before Victoria marries the villainous Barkis Bittern (Richard E. Grant).
---
Conclusion
You can watch these horror movies on the Netflix app or on the Netflix web player. By the way, you can also use a capable tool called NoteBurner Netflix Video Downloader. NoteBurner is an all-in-one video downloader that helps you permanently save Netflix movies or TV shows, and it helps you convert Netflix videos to any device for offline watching. NoteBurner provides you with effective high-quality video downloads and allows you to preserve available subtitles and audio tracks in languages as needed.
Note: Only the first 5 minutes of each video can be downloaded with trial version, please purchase a license to enjoy the full video. Of course, it is suggested to download the trial version first to test whether it meets your needs for downloading.