This article is written for people who are trying to save Amazon videos in Google Drive. Here we will introduce the advantages of saving videos in Google Drive and teach you to download Amazon video to the drive.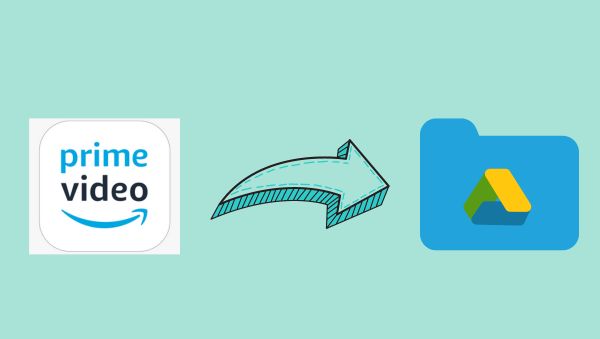 Advantages of saving videos in Google Drive
Storage and Accessibility: Google Drive provides cloud storage, allowing you to store your videos securely online. This means you can access your videos from any device with an internet connection, including computers, smartphones, and tablets. It eliminates the need for physical storage devices and allows you to free up space on your local devices.
Easy Sharing and Collaboration: Google Drive makes it simple to share videos with others. You can easily generate shareable links or invite specific people to access and view your videos. This feature is useful for collaborating on projects or sharing videos with friends, colleagues, or clients without the need for large email attachments.
Organization and Search: Google Drive provides features for organizing your videos efficiently. You can create folders, subfolders, and apply tags or labels to categorize and manage your video collection. Additionally, Google Drive offers a powerful search function that allows you to quickly find specific videos based on file names, tags, or even the content within the videos through OCR (Optical Character Recognition).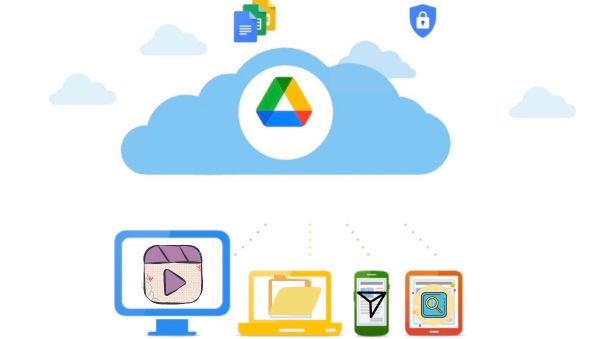 Security and Backup: Google Drive offers robust security features to protect your videos. It utilizes encryption protocols to ensure the confidentiality of your files during transmission and while stored on their servers. Additionally, Google Drive provides automated backups, which means your videos are safeguarded against hardware failures, accidental deletions, or other data loss incidents.
Integration with Other Google Services: Google Drive seamlessly integrates with other Google services, such as Google Docs, Sheets, and Slides. This integration allows you to easily incorporate videos into your documents, presentations, or spreadsheets, enhancing your productivity and collaboration capabilities.
Syncing and Offline Access: Google Drive allows you to sync your videos to your devices, enabling offline access. This feature is particularly useful when you need to access videos in situations where an internet connection is not available, such as during travel or in areas with limited connectivity.
Tutorial: How to download Amazon video to Google Drive
With these robust advantages, it would be great to save Amazon videos in Google Drive. However, though Amazon has a download feature, it does not provide an official option to download videos directly to Google Drive and downloaded videos are only accessible within its own app. It's easy to get rid of this restriction if you can download Amazon videos as local files with a professional video downloader.
NoteBurner Amazon Video Downloader is a user-friendly tool specially designed for downloading videos from Amazon Prime Video. It supports MP4/MKV formats, various quality options (240P to 1080P), and preserves original multilingual subtitles and audio tracks. It also allows batch downloads and offers fast performance.
Features of Amazon Video Downloader:
Export Amazon Videos in MP4 or MKV Format with HD Quality..
Keep Multilingual Audio Tracks and Subtitles, including 5.1 audio.
Extract Subtitles as Separate Files.
H.264 & H.265 Video Codec Options.
Keep the Metadata Info of Videos.
Batch Download Mode & Timely Support.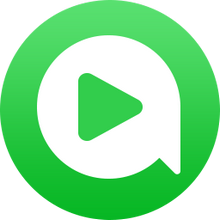 Below is a tutorial teaching you how to download videos on Amazon Prime Video and move them to Google drive. To better follow the operation, please install NoteBurner Amazon Video Downloader to your computer first.
1

Launch Amazon Video Downloader

Launch NoteBurner on your computer and type random words into the search bar to activate a pop-up window, which will prompt you to log in to your Amazon account.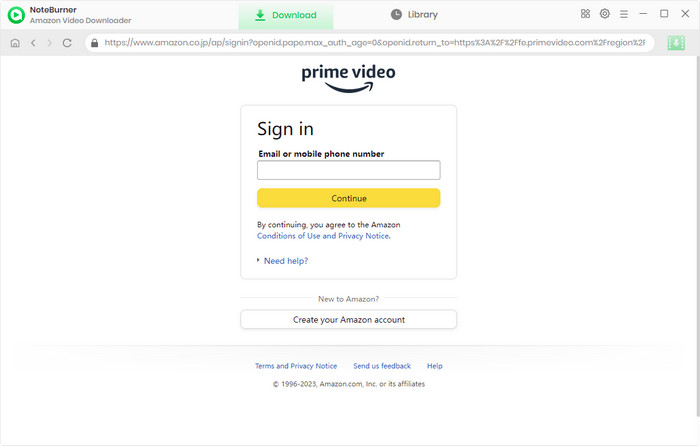 2

Customize the Output Settings

Next, you can click the Setting button in the upper right corner to choose the Video Format, Video Quality (from Low to High), Subtitle Format, etc.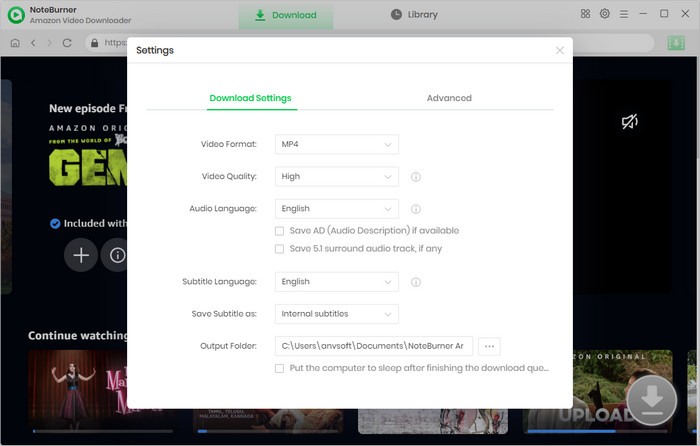 3

Search for Videos

You can search for the video you want to download by entering the keywords or copying and pasting the link of the video into the search box.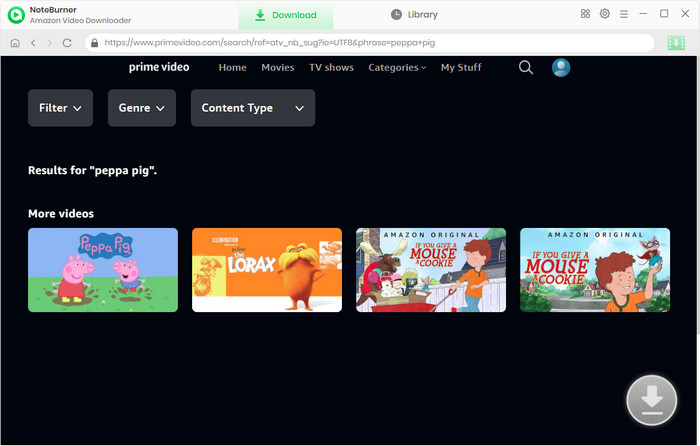 4

Select Advanced Settings

Then you can choose the advanced settings in the corresponding window before downloading the videos.

If you want to download a TV show, you need to click the

icon, after that a window will pop up for you to choose the titles and seasons. Click the Advanced Download icon in the bottom left corner to select the audio track and subtitle you prefer.
If you want to download a movie, you can click the

icon to open the Advanced Download window.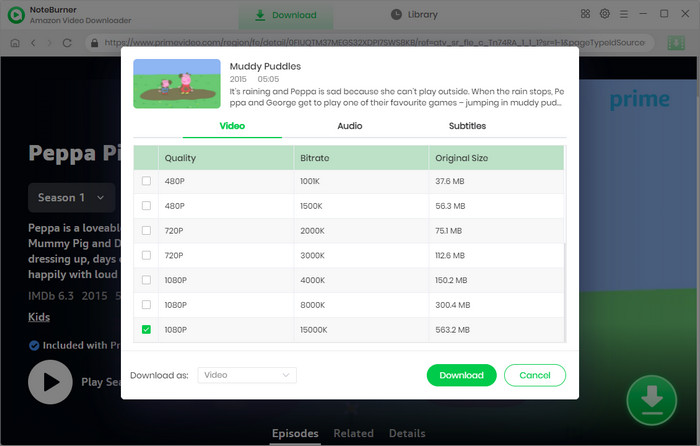 5

Download the Videos

Now, you can click the Download icon to start downloading the video. NoteBurner will automatically download the video to the folder that you have selected before in Step 2.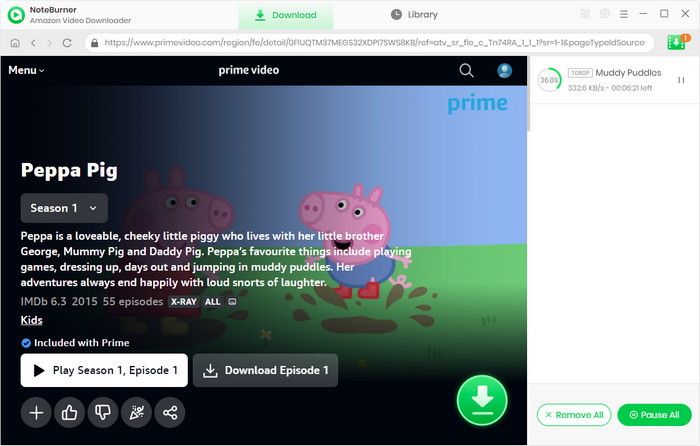 6

Move Amazon Videos to Google Drive

Now you can log in to your Google Drive on your computer and move the downloaded Amazon video to your drive.
Final word
Download Amazon videos and move them to your Google Drive, thus syncing and backing up your videos, sharing them with others, and freeing your device storage, etc. Install NoteBurner and enjoy downloaded Amazon videos in your Google Drive now!
Note: Only the first 5 minutes of each video can be downloaded with trial version, please purchase a license to enjoy the full video. It is suggested that to download the trial version and have a test before purchasing it.